Loading...
Working with parents
It is widely recognised that parental support is key for pupils to achieve their potential. This is particularly the case for children with SEND. This unit explores:
Government standards and recommendations.
The information and insight that parents/carers have about pupils.
The importance of engaging with parents.
How to work effectively with parents – as a pupil's teacher and as part of a multi-agency provision for a pupil.
Parenting programmes and how they can help.
The benefits of family therapy.
Engaging with parents/carers
Children will not always express or show the difficulties they are experiencing during the school day. Parents can give insight into this from what the child says or does at home. Good home-school communication should help highlight positives as well as identify problems.
The Child speaks to the Parent, the parent speaks to the Teacher, and the teacher relays information about the child's Behaviour at school back to the parent.
Interests
Dislikes
Triggers for anxiety
Causes for challenging behaviour
Effective strategies for support
As detailed in your PDF, attending meetings at school can be stressful for parents, particularly if they have SEND themselves. This mind map represents some key areas for making these meetings as accessible and stress-free as possible; select any topic to find out more.
Hide
Making meetings more accessible
Meeting with parents
Attendees

Support

Information

Venue

Language
Addressing the issue of parental engagement, Achievement for All recommends that schools should hold 'structured conversations' with parents about their children. This resource summarises the benefits of this two-way communication.
Hide
Structured conversations
Topics for discussion between the Parent and the Teacher
View teachers to parents
Parents to teachers
Focused on progress and outcomes
Draw upon the knowledge of parents to help the school to target its teaching, interventions and activities more effectively
Allow the school to feed back on progress, the strengths of the child or young person, and to discuss stretching, but achievable, targets for the future
Enable the parent to tell the school about the things that their child can do well, but also of the barriers that can get in the way of progress, for example problems related to a specific condition such as dyslexia
Encourage the school and the parent to discuss short-term activities or goals that might improve wellbeing and engagement with learning
Help to raise the aspirations of the school, parents and their child
Achievement for All: structured conversation
In this video, a father talks about how attitudes towards SEN in schools have changed since he was a pupil. Becoming involved at his daughter's school and seeing her progress through her own learning difficulties has altered his perspective – all starting with one meeting with the head teacher.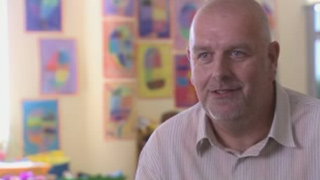 Watch the video
Engaging parents

This video features interviews with teachers and parents on the practicalities and benefits of good parent-teacher engagement. David Jones, head teacher and SENCO of a small primary school in Devon, shares his experiences of how workshops can be used to build positive relationships with parents.

This video clip relates to task 4 in your PDF of unit 7.

Show transcript

David Jones – Head Teacher:

I'm David Jones, I am the Headteacher of Halwill Primary School, and I'm also the SENCo in the school.

We're a small primary school in rural Devon, we've only got about 100 pupils on roll.

We run parent workshops because we saw that there was a need because of the high percentage of SEN pupils that we've got in the school, and also we felt it was a way to reach out to the parents to actually engage parents and build positive relationships with them. And it has proved a great success.

One of the key things that we've found is that to really make these parent workshops work, you've got to have a very friendly, personable demeanour. And what's really important is to actually bring these parents in, in a very positive way. So our sessions tend to be very informal, there's often tea and biscuits, and cake, and it is a friendly conversation.

Michelle Batstone – Reception Teacher:

These type of activities and workshops we do with parents are particularly important with parents with children with Special Educational Needs because they tend to be the parents that are most concerned about the development of their child, and obviously we work with them.

We have far more information when they come into school about what their specific needs are, and obviously it reassures them that we are meeting those needs in school. And also the communication between the parent and the teacher is, it enforces that and becomes stronger.

Parent workshop interaction:

Michelle: Children are very good at speaking, but they're not very good at listening and that is something we as teachers we have to develop.

David:

In a parent workshop we basically work with parents with particular activities that will support their children's learning at home.

Parent workshop interaction:

Michelle: The second activity is called "Spot the Difference"…

Michelle:

The types of parent workshops I have done before in the past have that have been quite popular are phonics, they like to learn how their child learns to speak. Reading, because they tend to focus on the words and actually it is all about reading comprehension, and lots of activities you can do around a book that aren't necessarily just based on the word itself.

Probably the most successful work shop I did was inviting parents into school to talk about the maths that they did in their work. There where hairdressers, I had builders, farmers, a veterinary nurse, and they obviously think their career is not necessarily based around maths but when they actually explored the maths in their jobs, they realised they did quite a lot.

David:

What these workshops have done, they've actually broken down some of the barriers between home and school. And what I've seen, not really so much something we can actually measure in terms of changes in standards because of these parent workshops, but certainly what we have seen is a change in the relationships between parent and school. And then that has had a spin off effect on pupils and is helping them raise their attainment.

The benefit to the pupils from our workshops is that it's really an valuable extension for those pupils. And particularly for the SEN pupils in the school. Because those are the children that are in most need in terms of their learning. And what we've found is that these workshops actually act as an extension of school, and have really added learning to those children.

Michelle:

The benefits of these parent workshops are immense really because when they have realised how we do things in school, they are able to support their children at home and have that dialogue that ensures the best outcome for their children and in turn that obviously supports us and their progress.

Richard Pattison - Parent:

I think the workshops helped me as my youngest daughter has some difficult behavioural issues, and having a good relationship with the teacher is helping me to settle my child into school relatively easily. And I think the workshop has been very beneficial to help her through.

I think the relationship with the teacher can only be built upon, and I think the stronger the relationship is, the more relaxed my child can feel and find it easier to progress through her education.

Michelle:

I do truly believe that parent workshops have a place in every school. They allow parents to really engage with the school, communicate with the school and with their child at home, and support everything we do, so that we are all singing from the same hymn sheet and we all want the best for their children and their progress.
SLCN: parents

This video provides a practical example of how parent-teacher interaction and good home-school communication can help children with speech and language difficulties. A mother explains how communication with her son has been improved through language games that can be used both in the classroom and at home.

This video clip relates to task 4 in your PDF of unit 7.

Show transcript

Shazia – mother of Owais:

My name is Shazia, and my son Owais is in Reception. He has learning difficulties.

Teacher-pupil interaction:

Rachel: Are you ready then Owais? Ready...

Shazia:

When I found out he had problems, it was quite a big thing for me, because it's quite scary, especially learning, and education is a really important part of your life. It was quite worrying, but with all the support I get with the school and Owais progressing and I've actually seen that he's going to be doing ok.

Teacher-parent interaction:

Hannah: I'm going to play the game with you just like we would with the boys. So you know what it will be like then to play with the boys.

Sarah Rutty – Head Teacher:

What parents expect from school is clarity of expectation, opportunity to develop themselves and their children, whether that's about attending a parenting class to help them become better parents, or whether it's about working alongside teaching staff to actually understand how to support their children with learning at home.

Teacher-parent interaction:

Hannah: Go, go, go, go, go, go, go. So the boys are getting really excited. And then when they've pulled it out, you'd say, now what do you think it might be?

Rachel Drinkwater –Lead Language Practitioner:

A really good idea is to meet with the parents of the children that have the learning difficulties and to meet with the senior leadership team and the teacher, the key worker, and the parents, to work together, to go through activities that the parents might want to carry out at home with the children.

Teacher-parent interaction:

Teacher: And then we'd say, well let's Owais have a go. And so we pass it to Owais. Say "ready", "steady", "go, go, go, go,…."

Rachel:

So today our Assistant Head Teacher, Hannah, went through the bag game with two of the parents, which is a speech and language focus, focussing on 'every child a talker', vocabulary and language being the main focus. So Hannah showed the parents how to do the activity, told them about the word level that the children are working on, and how then to deliver it back to the children.

Teacher-parent interaction:

Hannah: So I'll start off perhaps with Sahill, and say, "Sahill could you find me the brown bear?"

Rachel:

This happens on a regular basis that the senior leadership team or the class teacher works with the parents to show them activities and games and resources, that they can be using at home.

Teacher-parent interaction:

Hannah: They put the animals back into the bag which also means they're tidying up after themselves and getting that understanding that they have to be responsible.

Rachel:

This helps the children and the parents to understand exactly where the child is at. You don't want to keep and home two separate things. We are really working together to get the most from that child. So it's really important that the parent can see what the teacher is trying to achieve and vice versa, what the parents wants the teacher to achieve. So you're working together, it helps massively.

Teacher-pupil interaction:

Rachel: Ready…

Owais: Steady…

Rachel and Owais: go, go, go….

Rachel:

And the child can see that this game isn't just for school, it's for at home as well. And the quick progress that they're making if they're running the two alongside each other is vast. And the relationship between the parent and the teacher is even stronger.

Shazia:

There was a time when Owais's speech and language was really, really poor. But once he's come into nursery and into school he's picked up so well, that me and Owais can have a full conversation now. We're like best friends! So, yes, he's doing well, and I think it's all the support the school's given him.

Mehnaz – mother of Sahill:

I'm really grateful to all the staff at the school who continue to help Sahill.

Teacher-pupil interaction:

Rachel: Can you find me the animal that flies?

Sahill: Bat.

Mehnaz:

And my family and my family friends, they come into our house, and they've noticed a huge improvement in Sahill's speech.

Teacher-parent interaction:

Hannah: This is a resource that we'll be able to send home with you, to borrow.

Sarah Rutty:

The quality of relationships with parents, the trust, and the expectation between both school and the parents that you're all engaged on that same journey, that you both have the same commitment for and from their children, I think is the key to raising the bar of success for the children that you've got in your care.

Teacher-parent interaction:

Hannah: Thank you very much, thank you very much for coming in.

Mehnaz and Shazia: Thank you.
SNAAP: an after-school club set up by parents

This footage of an after-school SNAAP group features interviews with participating pupils and parents, a committee member and support worker. They discuss how the club began and has since developed, and the ways in which children benefit from its activities and support.

This video clip relates to task 4 in your PDF of unit 7.

Show transcript

Christine Haugh – Committee member of SNAAP:

I'm Christine Haugh and I'm one of the committee members on SNAAP which is an afterschool club and short breaks provider for young people and their families who are affected by Autistic Spectrum Conditions.

And the focus is really on getting people to socialise, to make friends based on common interests, and to develop and extend those friendships outside of SNAPP.

I have two boys who both have Autistic Spectrum Conditions, and it was very difficult to find any suitable leisure activities for them. We tried every possible mainstream playgroup, but my boys were sent home from all of them, they were very, very, unhappy at all of them, and I thought it was important to be able to have some activity with the whole family might be welcome. So I contacted all of the local secondary schools and one school in particular came back and said they were particularly interested in supporting a local group, and so we were able to start with maybe two or three friends. It was really just a handful of people who were starting in 2004 with a weekly time slot where we could use the facilities at the school, computer facilities at the school. There's parents here who come from every walk of life who have been able to share their wisdom with one another, and really support each other very actively, which is fantastic and that benefit is felt by the children I think, the young people.

Parent 1:

The thing I most appreciate about this club is that my son gets a chance to be himself without being criticised or picked on like in a normal setting. I get a chance to speak to parents that are in a similar situation as myself and I get a lot of information about what's out there; the kinds of facilities. Just generally, talking to people that really do understand. Most importantly, we are around the people that are actually giving us relevant feedback and information that's relevant to my child and our social and emotional needs.

Parent 2:

When my child was first diagnosed it was extremely isolating and it's benefitted me massively having other people to talk to talk about the stresses and the strains but just people that instinctively know and understand what you go through. And it's great for my child to have an opportunity to attend an after school club because not all, not many, after school clubs, play schemes are inclusive.

Parent 1:

I think that other schools can learn a lot from this club. They could easily help the special needs children to access these kinds of things.

Christine:

We started with the after school club based on a lot of the children with autism locally seeming to be very interested in computers, and using that interest in computers as a way to encourage and develop friendships.

Pupil 1:

It's really good because I can socialise with people and I can also play games like this one here. And then again, there's chocolates and cakes!

Pupil 2:

The reason why I like coming to SNAPP club with my mum is because I can enjoy playing football, playing the 'seek of fortune' and doing some other stuff in my school, because I really enjoy it.

Pupil 3:

It's just a little place where I can calm down after school. It's all good round here because of the internet, food, mainly everything.

Christine:

Whether it's developing skills with Word, or your skills with Excel, or playing on computer games, there's a range of different activities that our young people have engaged in. By bringing them together to do that, then they realise that there's other children who like the same things as they do, they can develop a shared interest, and learn more about turn-taking with games, socialising, some of the social aspects of playing and take that relationship that they've started in SNAPP, outside. And start doing other things that aren't related to computers outside as well.

We're certainly making life just a little bit easier for parents. And they know if their child is going to play-up, that the committee members and the support workers will be able to cope with that child's tantrums but hopefully be able to recognise the triggers to prevent it from happening.

Ian Harriman - support worker:

Autistic kids a lot of the time will respond differently to other adults. I mean, obviously a parent will be reacted to differently than someone who's just there being casual with them reacting to their interests, than to someone who has to play the 'hard-cop' and force them to not do things when they are acting out. And it's great having the ability to work with them more on their terms and in a field that they enjoy better, getting to relax with them.

Christine:

All of us who run SNAPP are actually volunteers; none of us are paid for the work that we do. I think it was very amazing that the school decided to agree to host us. When we first arrived at the school, not a single one of us had anything to do with the school locally. But since then, a relationship has very successfully grown and nurtured, and now we're at the point where we do have members who are involved in the school community. But at the time, I think it was just a concern for community cohesion and a school that was truly inclusive, that led to them accepting to allow a group of kids with challenging behaviour to come and trash the place once a week really.

It's not just tea and sympathy, we also kind of provide some details about what's taking place in terms of good practice locally, good practice nationally, we have a host of professionals who come in on a regular basis. The facilitator's feed back what's happened in the group, so the parents get instant feedback. You know, what kind of objectives are we striving towards in this week's group, and, how well their child's done in meeting those objectives, and, who in the group are they making friends with most importantly, so they can develop those friendships outside of the group.